A career trajectory is a path an individual follows throughout their working life. It includes any jobs they have, including those that help the individual move forward or backwards on their chosen career path. Good career planning leads to life fulfilment, however; cultural heritage can conflict with youths' personal interests. This systematic review examined existing literature on factors that influence youths' career choices in both collectivist and individualistic cultural settings from around the globe with the aim of identifying knowledge gaps and providing direction for future research.
Choosing a career path enables you to make informed professional decisions based on your current experience and skills. A career path is the various positions you work in as you advance in your industry. Your college degree or first job starts the path. By acquiring additional skills and knowledge, you can progress into advanced roles. Another option is to move laterally and take up different but equal job roles.
Importance of Career Planning
It is important to come up with your career planning as it gives you the much-needed direction and makes it clear there where you see yourself in future. It makes you aware of your strength and weaknesses and the skills and knowledge that are required to achieve your goals in future.
A career path is essentially a roadmap for your personal and professional development. Career paths don't always follow a straight line. Your career path is not set in stone. You can change it at any point based on your needs and experiences. To achieve the career you want, you need to be strategic with the jobs you take. That's where mapping out your career path can be a major help. Your career path is simply a series of jobs you take that ultimately lead you to your dream career. Career paths go hand-in-hand with a career plan, which is basically a list of short- and long-term goals that you strive for along your career path.
By mapping out a career path, you can…
Avoid taking jobs that get you nowhere. Chances are good that you'll have at least a few job changes over the course of your career. When you're tempted to leave your current job for greener pastures, it helps to ask yourself one simple question: Will this progress my career in the direction that I want? If the answer is no, think twice before you jump ship. Identify gaps in knowledge and skills. Not sure what skills or training you need to progress to the next step in your career?
Mapping your career path takes a lot of the guesswork out of the equation by helping you see which skills you need to reach your future career goals. Strive for something other than a paycheck. Sure, you want a job that pays the big bucks. Who doesn't? But for many employees, a paycheck isn't enough to keep them motivated at work. They want to be fulfilled in their careers, and that comes through personal and professional development.
Bounce back quicker from career setbacks. Mapping out your career won't make you immune to career setbacks. However, it can help you get back on track if your original career plans are derailed. Getting laid off unexpectedly can be super scary, but with a career strategy in place, you can pick up the pieces quickly and come back stronger than before.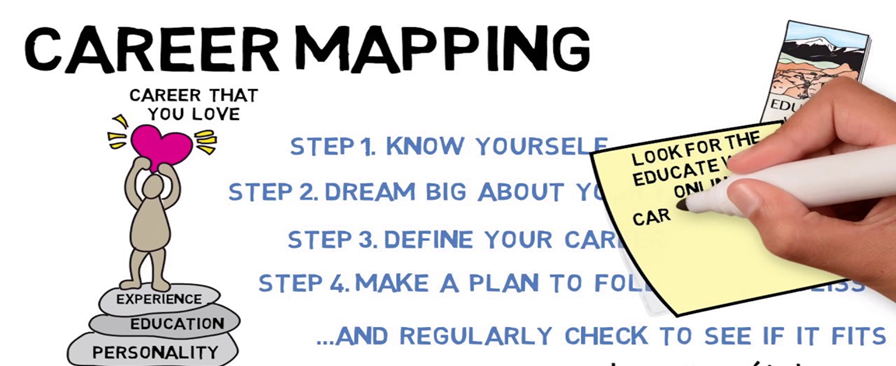 Career centres across the country struggle with last-minute job searchers — i.e., seniors and graduate and postdoctoral trainees in their final quarter or semester who need jobs right away. While students can still find options at this point, it may be too late to truly maximize their potential on the job market. When is the best time for students to start thinking about their first jobs? From their first day on the campus. Well, sort of.
Students move their job search to the last minute for many reasons but especially because of stress. Early in their education, new intellectual and social challenges are enough to keep them anxious. Who wants to think about a job on top of that? Career professionals and university administrators add to job-search stress by measuring their success by how many students have jobs upon graduation and by making public all of the organizations and sectors where students' peers work.
But instead of focusing on the job as a reward for completing their education, students need to aim for a career that aligns with their values, interests and skills. Concentrating on a job is terminal, stressful and boring. Career development is long-term, constantly changing and full of possibilities — a marathon, not a sprint. Education is a part of this development, not just a means to an end.
Early college experiences outside the classroom translate into future career success, as well. Navigating roommate or lab conflicts, for example, is preparing for the myriad collaborations and negotiations that take place daily in every work environment. They provide additional insight into the types of personalities students may want to work with in the future. Seeing those experiences as building important life skills rather than as simple day-to-day interactions instils a professional mindset, or work ethic, early on so that students feel more confident when it comes time to apply for and begin jobs. Finally, it is never too early to start building networks. They do not have to be directly career-related in the beginning. Students who reach out to more experienced students, alumni and professionals for help on projects or to discuss issues of transition within their educational area set themselves up for future job options — but in a less daunting way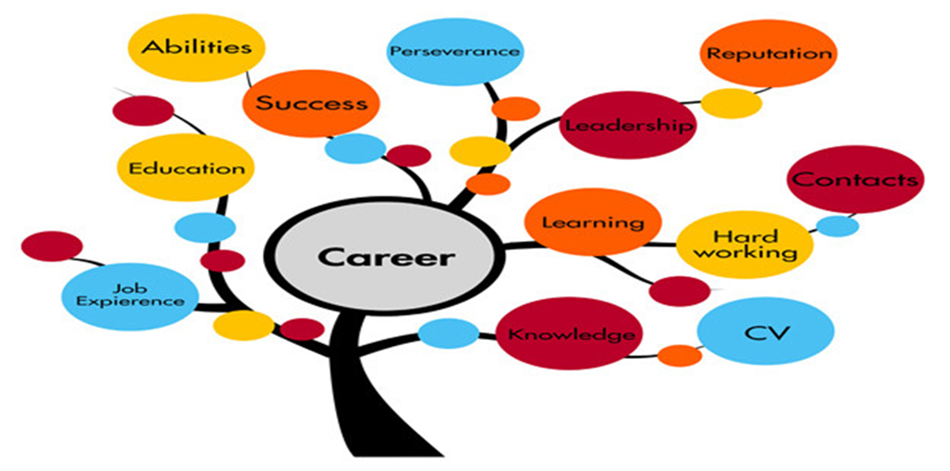 A Few Tips on Career Planning
A lot of elements go into finding a job: Networking, résumés, cover letters and research. And when it comes to finding (and hopefully landing) the right job, you want to make sure you're addressing every aspect of a thorough job search.
CONSIDER WHAT KIND OF CAREER YOU WANT: Research different career fields to see what interests you. Start by using the search tool on this site, which lets you search by industry, salary, degree required and more.
ASSESS YOUR STRENGTHS AND INTERESTS: A career that suits your strengths will help you do your best work. Try using a personal assessment tool to help identify your specific skills.
REACH OUT TO PEOPLE YOU KNOW: With at least 70 percent of job seekers finding employment through networking, one of the best ways to land your first job, or any job for that matter, is to be referred by someone you know. Tell your family, friends and neighbours what interests you and what kind of job you're looking for. They can help connect you to people who are in your career field of interest.
CHECK OUT JOB LISTINGS: Job listings are everywhere: online, trade magazines, newspapers and even on the bulletin board of your local coffee shop. It's worth it to read them all; not only will it give you a good sense of what's out there, but it will open your eyes to opportunities you might not have considered otherwise.
ESTABLISH A PROFESSIONAL SOCIAL PRESENCE: Social networks have become a helpful resource for job hunters and employers alike. Use social networks like Facebook and LinkedIn to make inside connections that will help you discover jobs you won't find in traditional postings.
SPEAK WITH A RECRUITER: Depending on what stage you're at in your career and what kind of field you want to get into, you may want to employ the help of a recruiter—someone who works with companies and organizations to help them find new employees and works with you to find you a job.
PREPARE YOUR APPLICATION MATERIALS: Having a polished résumé is key to getting a job. Creating your résumé will also help further organize and refine your career goals.
You will want to have a list of references ready. Reach out to past employers, teachers or mentors who can speak to your work ethic and experience, and make sure you have their permission to list them as references.
To conclude – An awareness of one's values and skill sets, along with connection building, can help one bridge between education and the world of work in a nonthreatening way. The definition of success for a student doesn't have to be finding a job right after college. In fact, perhaps the most successful thing they can do is to leverage their college experiences in and outside the classroom to intentionally decide who they are, who they want to be and what career of choice best suits their personal mission.
RESOURCES:
"Choose a job you love, and you will never have to work a day in your life." – Confucius
Update on Skill Development & Training
In the new cohort, currently in the 2nd year (1438), 699 students are currently doing the Enguru English program and 739 scholars are in the Hello English program. This started on August 10th.
The Campus to Corporate "Skills Training Program" supported by Capgemini (1460 scholars) 484 students are in the Hi-touch English program by eAge Tutors, 700 in the Coursera program, and 30 in the Skill Lync program. A batch of 67 students from 2nd and 3rd-year Computer Science & IT streams were enrolled in the IBM Skill build a program from October 10th. The camp2 will begin on the 15th of December.
This year, the 2nd year students in Law(18) and Pharma(52) cohorts are also enrolled in the English program with Enguru that started on 31st August.
FLY (Finding the Leader in You) Program in partnership with CMI and IIT-Gandhinagar
The 12-days workshop was conducted in October with a batch of 34 students. This comprises of 2nd year Engineering scholars. This workshop is conducted by CMI – Competitive Mindset Institute Inc and designed to teach noncognitive skills for the personality and character development of students.
Soft Skill Training programs and webinars for Medical FFE scholars
Qmed – Medical Literature searching course for research and study is going on for 66 Medical scholars.
English Training for Medical scholars
A pilot batch of 135 Medical scholars mostly from the 2nd year is currently giving the AMCAT assessment (English comprehension & Spoken English). Post this, from Nov 10th, these scholars will begin the App based English program by Enguru
Placement update
From the 2020-21 graduating batch of 890 Engineering students, 92% (822) are placed; 568 have secured jobs and 254 have opted for higher studies while 8% students (68) are seeking employment.
From the 2021-22 graduating batch of 1256 Engineering students (current final year), 58% (724) are placed; 551 have secured jobs and 173 have opted for higher studies. The remaining 532 students are starting campus interviews from September 2021.
FFE is thankful to its corporate partners Geberit Plumbing Technology India Private Limited, O9 Solutions, Altimetrik India Pvt. Limited, Capgemini TechnologyServices India Limited, KPMG Assurance, and Consulting Services LLP, TraneTechnologies, Ingersoll Rand, Thomson Reuters for offering Placement opportunities to FFE's batch of 2019-20, 2020-21 & 2021-22.
Below are toppers in the Coursera training program. They have been issued gift vouchers, based on their performance. Congratulations to all of you!
Send us your feedback and suggestion at studentrelations@ffe.org